HOBNOBBIN
Latest Folk News
Editor: Pete McClelland Contributors: Nicola Rain, John Rain, Dave Benton, Sarah Mallinson
Festivals
Summer 2012
All the fun of the summer festivals!!
It's been another great festival season for the Hobgoblin Canterbury staff, they've been up and down the country selling instruments and catching up with friends new and old. The season's now drawing to an end, with Bromyard and Tenterden left to, below are some of the highlights, and some photos of what we got up to:
Pip's Highlights:-
The weather at Uttoxeter
The quality of tunes being played in the sessions at Warwick
Tim Yates of the Albion band's 21st Birthday celbrations at Warwick
Sidmouth -Just Being there, it's brilliant-
Feast of Fiddles concert at Broadstairs
John Kirkpatricks victorian farm show at Towersey
Not getting the van stuck anywhere this year!
Adam's Highlights:-
Gary Numan, Skindread and the comedy tent - Guilfest
David Young's amazing guitar playing - Cambridge
Brendan Powers Harmonica playing - Cambridge
Finding the showers - Cambridge
Free tasters on Crabbies Ginger Ale - Cambridge
Being pulled off the field with a JCB- Guilfest!!!
Being pulled off the field with a fork lift JCB - Cambridge!!!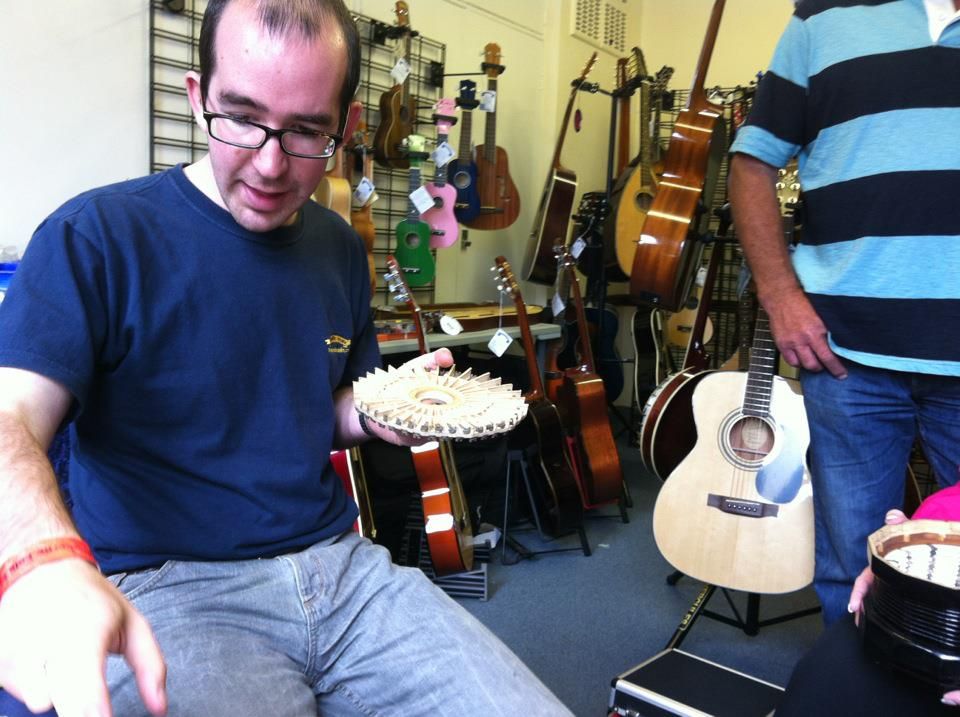 Pip at Wimborne repairing a very nice Wheatstone Duet concertina
The Cambridge Festival stall- possibly the best looking stall I've seen all year....... is that because I wasn't there to get in the way..... I mean help?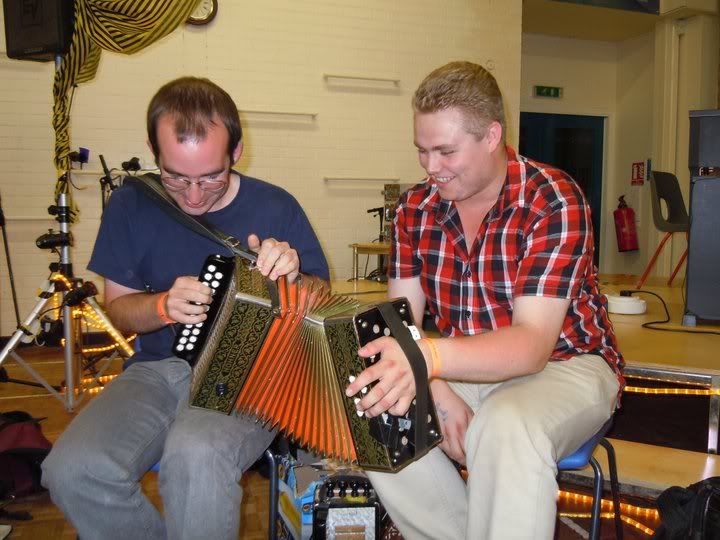 How many Hobgoblin staff does it take to play one melodeon?
In this case two...... But are they playing the same tune at the same time?
Pip Ives and Matt Quinn attempting the impossible
Fred Holden showing he is proud to be a member of the team at the Broadstairs Folk Festival in August!
News story from Hobgoblin Music

---
GOT ANY FOLK NEWS? Have you got any news you would like to add to this page? We welcome your contributions, so email us now.
LIKE THIS PAGE? If you would like to receive news from Hobgoblin by email (around 6 - 8 times a year), join our mailing list!

Go back to the News Main Menu